Hello, my name is Barry Melton.
Welcome to my website, where you will find a number of links related to my past, my present, my friends and my interests.
In 1965, I co-founded the musical group Country Joe and the Fish, and began my career as a guitarist and singer, recording and touring with "Country Joe" McDonald as a duo and with various bands, with my own bands and as a solo artist under the name Barry "The Fish" Melton.
In 1982, I was admitted to practice law before all courts of the State of California and before the U.S. District Court for the Northern District of California. I have subsequently been admitted to practice before most other U.S. District Courts in California, the U.S. Court of Appeals for the Ninth Circuit, and the U.S. Supreme Court. I am certified as a specialist in criminal law by the Board of Legal Specialization of the State Bar of California. I've served as a Deputy State Public Defender with the Office of the State Public Defender for the State of California, and I retired as Public Defender of Yolo County, California. I am a past President of the California Public Defenders Association [CPDA]. If you like, check out the Sacramento Bee story on my retirement. I retired in June 2009, but continued to work part-time at the Yolo County Public Defender's Office through March 2010, during the transition period for my successor, Tracie Olson, the current Yolo County Public Defender. I managed to stay retired for almost a year, but missed the action; so I opened up a small private practice. At the end of 2011, I accepted a contract with Lake Legal Defense Services in Lake County, California, to provide indigent criminal defense (public defender) services and I love my work!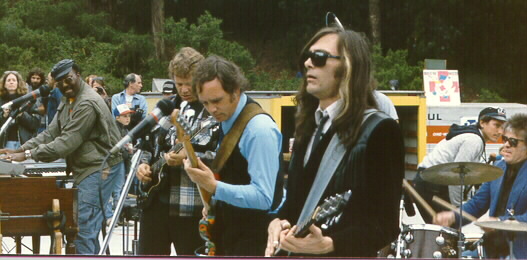 Of course, I have continued to play music during the course of my legal career, including a long stint with Dinosaurs, a band of 60s veterans that at various times included Peter Albin and David Getz ( Big Brother and the Holding Company), John Cipollina and Greg Elmore (Quicksilver Messenger Service), Papa John Creech (Hot Tuna and Jefferson Starship), Spencer Dryden (Jefferson Airplane and New Riders of the Purple Sage), Robert Hunter (Grateful Dead lyricist), David LaFlamme (It's a Beautiful Day), Jerry Miller (Moby Grape) and the incomparable Merl Saunders on keyboards.
I divide my time between Yolo County and Lake County, California, and live with my life-partner and wife of over 40 years, Barbara Langer, who is a licensed Marriage and Family Therapist (MFT). Our youngest son, Kyle, is living in the San Francisco Bay Area, plays a bit of music and attends San Francisco State University. Our oldest son, Kingsley, lives near our Yolo County home. Kingsley teaches 9th grade English at a Sacramento high school. If you'd like to read a more objective view of what I'm done in more recent years, check out this article that was printed in the Sacramento Bee, or check out this interview by Rip Rense in the Rip Post.